This is the new-generation image-guided therapy platform that allows you to easily and confidently perform procedures with a unique user experience, helping you optimize your lab performance and provide superior care.
A unique user-centric experience.
Is the new-generation image-guided therapy platform that allows us to easily and confidently perform procedures with a unique user experience, helping to optimize the lab performance and provide superior care.
Information stands out from the distinctive black background and highlights help you easily locate active applications. The system controls backlit icons and distinctly shaped buttons aid in identification.
Includes new experience design features to further improve the quality and efficiency of interventional procedures. The new workflow approach aims to improve three aspects of interventional workflow.
Awards: Red Dot, iF Design, Good Design, dmi: Design Value, Core77 Design.
​​​​​​​
Within the Experience Identity visual guide v1.2, the dark style is used for applications and systems with an emphasis on clinical images. To avoid strain on the eyes by accommodating the eyes between a dark clinical image and the surrounding interface elements.
The IGT User Interfaces have an emphasis on clinical images and therefore carry the dark style of the Experience Identity. The focus of the user is on the images, the user interface is supportive of the imagery it presents.
Shaped through the Human-Centered Principles and 
Health Design Thinking

​​​​​​​
Human-Centered Design is an approach for defining and solving problems from the perspective of the people who will depend on the solution you come up with.
Its main focus is on the people who utilize the products to perform their everyday tasks.
Health Design Thinking methodologies provide the means to imrove the user experience (UX) through the efficiency, utility, ease of use, and well-being provided during the interaction with digital products.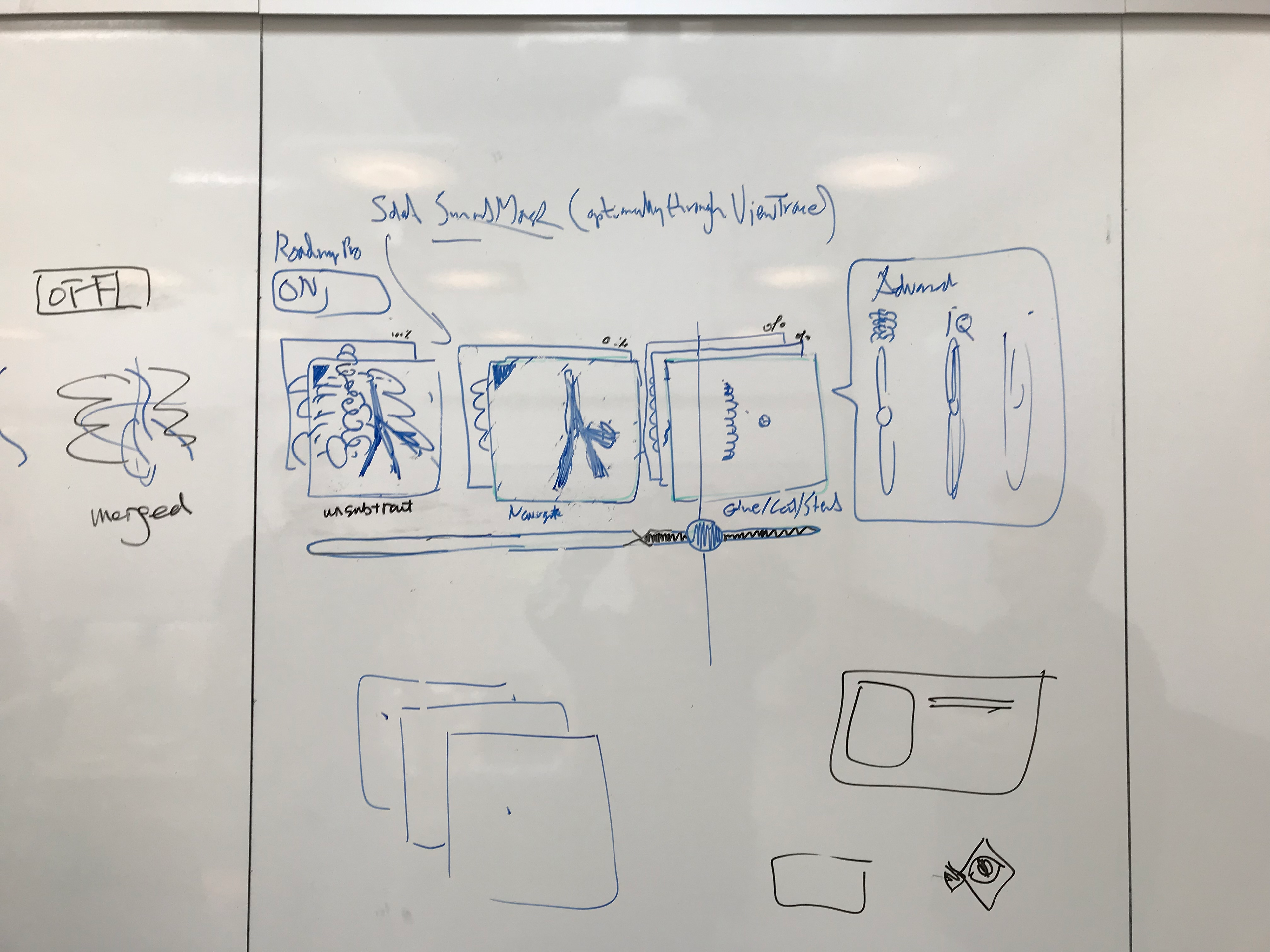 Vision delivery and Implementation
The new X-ray digital application is designed with flexibility in the way of working and ease of learning in mind. The design family features applications optimized for desktop usage, viewing, and operation by a touchscreen module.
All the designs share the same user interface blueprint to make it easy to transition from one type of application to the next. We also designed all applications to be equally capable without compromising on ease of use. 
​​​​​​​
This enables the hospital team to innovate and redefine their way of working and roles of staff members. In addition, it supports flexibility for all thinkable scenarios that force a particular way of working.
Physicians will be very pleased with these innovations.
New Touch-Screen Module Pro
The Touch Screen Module (TSM) has become commonplace in Azurion healthcare settings, leading to rapid growth in the development of medical software applications. Numerous apps/modalities are now available to assist HCPs with many important tasks, such as clinical decision-making.​​​​​​​
Touch-screen devices and apps provide many benefits for HCPs, perhaps most significantly increased access to point-of-care tools, which has been shown to support better clinical decision-making and improved patient outcomes.​​​​​​​
Despite the benefits they offer, still we need better standards and validation practices to be established to ensure the proper use and integration of these increasingly sophisticated tools into medical practice.
Some examples in action below.
No need to switch tools to do measurements.
Quickly measure distance on a 2D image with the two-point measurement on the touch screen.
This can help you quickly check the trajectory to a target vessel, measure distances for stent deployment, measure the size of a device and anatomy or identify a discrepancy to speed up planning of the optimal treatment angle and aid navigation.
Introducing a next generation of Azurion Image Guided Therapy solution with new functionalities.
Full system Automatic Position Control (APC) allows you to recall the stored position for a particular image or previous position to simplify positioning. You can recall a stored position for the table alone and for the table's isocenterrelated position.
The following parameters are stored and recalled: C-arm angulation, longitudinal and transversal position, the table's longitudinal and transversal position and height, SID, field of view, wedge filters and collimation.
Full control at table side to interact with FlexVision Pro, it can be intuitively controlled all connected applications in the interventional lab via seamless mouse over to streamline your workflow.
These applications can include multimodality data from PACS and interventional tools. Allowing interventional team members to operate all relevant applications from the sterile environment can help decrease the need to move in and out of the sterile area during the procedure.
SmartCT - Interventional Application for Azurion
The SmartCT application is a tool that makes it easy for doctors to take 3D images during medical procedures. It's designed to be simple to use, even for doctors who may not have a lot of experience with 3D imaging.
Once the 3D images are taken, they appear on a touch screen right away, and the doctor can use the same screen to view and measure the images in 3D.
SmartCT is designed with a focus on improving the overall user experience and patient outcomes in medical procedures:
• Integration with Azurion Platform:

This design feature ensures that the application seamlessly fits into the existing Philips Azurion platform. It means that medical professionals can work within a familiar environment, reducing the learning curve and potential disruptions during procedures. This integration is human-centered because it caters to the needs of healthcare professionals by optimizing their workflow.
• Real-time CT Imaging:

By providing real-time CT imaging capabilities, the application enables doctors to access immediate and dynamic visual information during procedures. This feature caters to the need for timely and accurate guidance, which is crucial for making informed decisions during medical interventions. It enhances patient safety and the efficiency of the procedure.
• Image Fusion:

The ability to fuse X-ray and CT images simplifies the process for healthcare professionals by offering a unified view of the patient's anatomy. This simplification reduces cognitive load and ensures that doctors have a comprehensive understanding of the patient's condition, which is essential for making precise decisions and improving patient care.
• Dose Optimization:

This feature focuses on the well-being of both patients and medical staff by reducing radiation exposure while maintaining image quality. It aligns with human-centered design principles by prioritizing safety and minimizing potential harm, a crucial consideration in medical procedures.
• 3D Visualization:

Advanced 3D visualization tools enhance spatial awareness for medical professionals. This is particularly valuable in complex procedures, making it easier for doctors to navigate and interact with three-dimensional representations of the patient's anatomy. It simplifies the visualization process, benefiting both physicians and patients.
• Navigation and Tracking:

Integrating navigation and tracking systems helps guide medical instruments accurately. This simplifies the precision required during procedures, reducing the margin for error. It enhances the user's confidence and control over the equipment, improving the overall experience and patient outcomes.
• Workflow Efficiency:

By incorporating features to improve the efficiency of interventional procedures, the application minimizes delays and streamlines processes. This not only saves time but also enhances the overall experience for healthcare professionals and contributes to better patient outcomes.
• Data Management:

Efficient data storage and retrieval ensure that critical procedure data, including images, can be accessed easily for documentation and future reference. This aligns with human-centered design principles by facilitating proper record-keeping and information access, which are essential for healthcare quality and continuity of care.
After a successful introduction of Azurion with SmartCT in 2020, many users have experienced working with the new solution from Philips.